AMMARDAN'S GULITY AS CHARGED  "LOGAN"


Logan's stats:

Date of Birth: November 2, 2015
Color: Black and white
Coat: Rough/long  |  Weight: 32 pounds
Breeder: Danielle Nash (Ammardan)
Owner: Danielle Nash (Ammardan)

HEALTH
OFA Hip Score: EXCELLENT (BCO-12379E24F-VPI)
OFA Eye: CAER clear Apr 2018, Nov 2019, Aug 2021
CEA: Normal (DNA tested)
CL: Normal (DNA tested)
TNS: Normal (DNA tested)
MDR1: Normal (DNA tested)
BCG (Glaucoma): Normal (DNA tested)
Animal Genetics (DNA panel) #: 00124861
PARENTS
Sire: Grand Ch Ammardan's Black Denim "Levi"
Sire hips: OFA Good (BCO-8045G26M-VPI)
Dam: Ch Wildskye Ammardan's Lady Juror RN, CGCA, TD "Leah"
Dam hips: OFA Good (BCO-9979G24F-VPI)



Logan's parents are LEVI and LEAH. She is my 6th generation and a long awaited line breeding of her daddy Levi. She is exactly what I wanted in temperament and structure, and her blue eye is just a bonus for me! She is an absolute sweetheart, very much an "old soul" type. Logan she is just drivey enough with a super off switch. She is an exceptionally easy to live with dog, she is quiet, happy, nothing phases her, and all she wants to do is please. She is very soft and sensitive, and even a little bit nerdy and to put it very simply she is the best and easiest dog you could come across.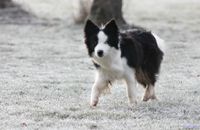 OFA Excellent, eyes clear, Normal for: CEA, CL, TNS, MDR1, IDG, DM, Glaucoma
Black/white, OFA Good, CEA/CL/TNS Normal, eyes CERF/CAER clear, BCG Normal

Black/white, OFA Good, CEA Normal, CERF clear, TNS Carrier, New Zealand import

Aust Ch Aldyson Mac Cullum

UK Connection o'Clan Abby (NZ)

Black/white, carries blue eye gene, possible dilute carrier, OFA Hips Good, Eyes clear, CEA/CL/TNS Normal, IGS/DM/MDR1 Normal

Black/white, OFA Good, CEA/CL/TNS Normal, eyes CERF/CAER clear, BCG Normal

Black/white, OFA Good, CEA Normal, CERF clear, TNS Carrier, New Zealand import