BRONZE GRAND CHAMPION AMMARDAN'S BLACK DENIM   "LEVI"

Levi's stats:

Date of Birth: July 9, 2007
Color: Black and white
Coat: Rough/long  |  Weight: 45 pounds
AKC Registered: DN18932603
Breeder: Danielle Nash (Ammardan)
Owner: Danielle Nash (Ammardan)
 

HEALTH
OFA Hip Score: GOOD (BCO-8045G26M-VPI)
CERF Eye: clear Nov 2009, Aug 2011, Nov 2013, Mar 2015
CEA: Normal (by parentage)
CL: Normal (DNA tested Animal Genetics # 110408)
TNS: Normal (DNA tested UNSW # BC6530)
MDR1: Normal (by parentage)
BCG (Glaucoma): Normal (DNA tested- Animal Genetics)
PARENTS
Sire: Ch Clan Abby NZ Kia Ora Kiwi (NZ) "Scooby"
Sire hips: OFA Good (BCO-6755G120M-PI)
Dam: Ch Ammardan's Designer Jeans "Amailee"
Dam hips: OFA Fair (BCO-6972F26F-VPI)

 
Levi is a very handsome and proud dog, but at heart he is just a huge mommy's boy (just don't tell anyone!). Levi was from Amailee's first litter bred to Scooby (owned by Tina Turley-Kocab) which was one of Scooby's only 2 litters he ever had. Scooby was imported from New Zealand as a puppy, and we couldn't be more thankful to Tina for allowing us to include his amazing pedigree into our breeding program! Levi finished his championship in style by going Best Opposite Sex over specials for a 4 point major, then went Best Opposite Sex again the next day- his first day out as a special! Levi took a break to grow up and hit the show ring again in July of 2010. With very limited showing he managed to finish his Grand Championship in 3 short months, he finished with a 5 point major Best of Breed win over TEN other specials in Michigan. He finished out 2010 as the #18 Border Collie in the country with 5 limited months of showing! Levi earned his BRONZE level Grand Champion! He is just the 30th Border Collie to accomplish this achievement, and I couldn't be more proud of my boy! He earned it all being breeder/owner handled!

Levi is a sweet, happy, and loving dog. He has a great drive and incredible endurance with a perfect off switch. He is turning 13 years old this year and you can hardly tell. He runs and plays like a puppy, and doesn't have a grey hair on his head! He has produced multiple conformation champions, agility stars, and off spring with a true herding talent.
Levi is currently taking an extended vacation with a very good friend. He will still be included in our own breeding program, and we have frozen semen available for any stud inquiries to select bitches. Pedigree available at the bottom of the page.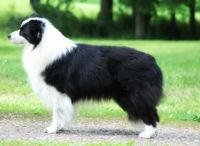 Black/white, OFA Good, CEA/CL/TNS Normal, eyes CERF/CAER clear, BCG Normal
Black/white, OFA Good, CEA Normal, CERF clear, TNS Carrier, New Zealand import

Aust Ch Aldyson Mac Cullum

UK Connection o'Clan Abby (NZ)