"Rusty"
Date of Birth:
June 7, 1999 | Color: Red (chocolate) and white |
Weight:
50 pounds |
Coat:
Rough/Medium
OFA Hips:
Good (BCO-4307G36M-PI) |
Eyes:
CEA Tested Normal
AKC Registered:
DL81770301
Sire:
Sweep (ABCA 102299)
Dam:
Rickie (ABCA 114443)
Breeder:
Max & Pam McClure |
Owner:
Danielle Nash AMMARDAN
Where do we even start with Rusty? He's super loving and loyal, and was such an amazing foundation dog for us. For being a plain ol' farm bred boy he turned out to be such a wonderful dog and and a huge influence on the dogs I have today! Even though he did not enjoy being in the show ring, he's still an absolute stunner and produced several AKC conformation champions for us. Along with that he also has had offspring in the agility ring along with exceptional companions! Please enjoy his few photos below, we lost many of our old photos of him when an old hard drive crashed.
Rusty's OFA hips
Deceased: June 7, 1999 - January 26, 2015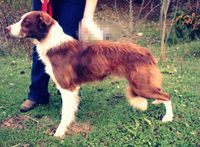 ABCA 152778, Red/white, OFA Good, CEA Normal
Woodland's Luke (AIBC 80075)