"Rage"



Date of Birth: February 1, 2008  |  Color: Gold (ee red) and white  |  Weight: 55 pounds  |  Coat: Rough/Long
OFA Hips: Good (BCO-8186G25M-VPI)  |  Eyes: OFA/CERF Clear Nov 2013
CEA Eyes: Normal by Parentage  |  TNS: Normal by Parentage  |  CL: Normal by Parentage
AKC Registered: DN20664902  |  AKC DNA Profiled: V597043
Sire: Ch Wildblue Caoirean | Sire's OFA: Good (BCO-6149G26M-PI)
Dam:
Wildblue Eternal Dream
|
Dam's OFA: Good (BCO-6674G27F-PI)

Breeder: Deanne Veselka WILDBLUE Border Collies  |  Owner: Deanne Veselka & Amanda Gross
Accomplishments: AKC Conformation Champion
Rage is owned by Deanne Veselka of Wildblue Border Collies. His mother was one of my favorite girls of Deanne's, and I had owned a wonderful son of Rage's,
Keegan
. When Deanne offered Rage to visit me for a while I could not pass up the offer! Rage lived with me for about 2 years, he had fun visiting new girls and experiencing the Ohio winters! It was a pleasure to have such a lovely boy around and be trusted by his breeder Deanne to have him here! He is a super sweet and very serious dog, he is extremely smart with a good medium drive and off switch. He has crossed into my line very well and I am very pleased with his babies. 
See Rage's
OFA page here
See Rage's page
HERE on the Wildblue websit
e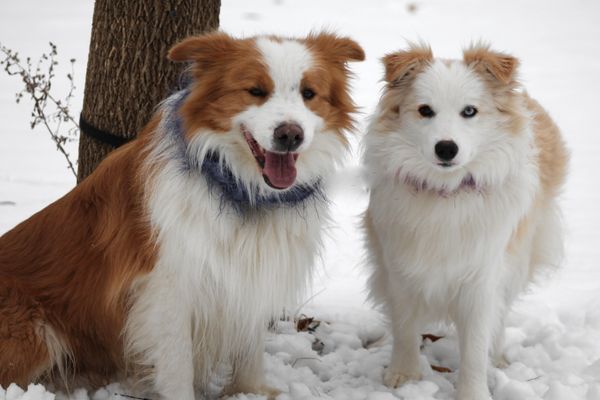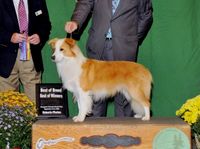 Gold/white, OFA Good, CEA/CL/TNS Normal by Parentage
Devondene Kiwi Contessa (Aust)

Aust Ch Kybota City Rhythm

Kybota Silent Magic (Aust)

Breekema Pats Charity (Aust)

Glen Nevis Justa Kraker (NZ)

Llanwnen Elegnt N Elusiv (Aust)

Danbeth Private Label (Aust)

Breekema Pats Charity (Aust)