Ch Ammardan's Forever In Blue Jeans

"Madison"


Date of Birth: January 9, 2003  |  Color: Blue merle and white  |  Weight: 40 pounds  |  Coat: Rough/Medium
OFA Hips: Good (BCO-5655G25F-PI)  |  Eyes: CEA Normal
AKC Registered: DN02037001  |  AKC DNA Profiled:
Sire: Ch Shoreland's Rio Bravo  |  Sire's OFA Hips: Good  |  Sire's Eyes: CEA Normal
Dam: BSP Ellie Blue  |  Dam's OFA Hips: Fair  |  Dam's Eyes: CEA Normal
Breeder: Danielle Nash AMMARDAN  |  Owner: Danielle Nash AMMARDAN
Accomplishments: AKC Conformation Champion, Canine Good Citizen


Madsion was out of our 2 foundation dogs, Rio and Ellie. As a result of Ellie climbing a fence, Madison's litter came about. Without her, many of our current dogs would not exist! Madison was the butt of it all, producing our Hayden and Amailee... and it goes on from there! She was a gorgeous girl, a moderate dog who appealed exceptionally well to the breed standard. She had the best temperament which she passed along to all of her babies. Madison is now deceased. My River is her granddaughter and she is so, amazingly identical to her grandma!

Deceased: January 9, 2003 - July 30, 2013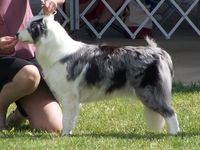 Blue Merle, OFA Good, CEA Normal
Sweet William (AIBC 82523)

Merlynn's Skyla (ABCA 28611)